Enjoy some photos from Encompass' Paradigm Shifts Music and Film Festival.
In association with Union Theological Seminary, The Center for Earth Ethics (Karenna Gore, Director) and Derrick Harkins, Vice President of Union and Innovation in Public Programming.
DAY 1: Tuesday, June 13 at 7:00 PM – Opening Night
The Paradigm Shifts opening night ceremony, MOVE INTO THE LIGHT, will include music celebrating nature, water, and the stars through songs that take us on a journey around the world. Composers featured this evening include David DiChiera with the New York premiere of A Letter to Sarah and Richard Pearson Thomas' chamber piece, Driving at Night.
With voice, violin, piano, cello, and trumpet resonating throughout James Chapel, this opening celebration will lift spirits and encourage the finding of hope in challenging times.
DAY 2: Wednesday, June 14 at 7:00 PM
Wednesday's events will begin with Native American ceremony in James Chapel, followed by a screening of the film AWAKE, A DREAM FROM STANDING ROCK (2017) (84 minutes) and a Q & A with Native Americans who witnessed the events at Standing Rock, & filmmakers in James Chapel & via Skype.
In 2016 Standing Rock, North Dakota became one of the most watched places on earth.
The Standing Rock Sioux Tribe captured world attention through their peaceful resistance to the Dakota Access Pipeline, which threatens the drinking water of 18 million people and Indigenous sovereignty. While many may know the details, AWAKE: A DREAM FROM STANDING ROCK (2017) captures the story of the Native-led defiance that forever changed how we fight for clean water, our environment and the future of our planet.
Directed by Academy Award nominated filmmaker Josh Fox (Gasland), Academy Award nominated filmmaker James Spione (Incident in New Baghdad) and Digital Smoke Signals founder Myron Dewey. Written by Floris White Bull, Josh Fox and Myron Dewey. Executive Produced by Academy Award nominated Amy Ziering (The Invisible War), Golden Globe nominated actress Shailene Woodley (Divergent, A Fault in Our Stars) and Lauren Taschen. Advisors Floris White Bull and Douglas Good Feather. Featuring music from Nahko (Nahko and the Medicine People) and Prolific the Rapper. Co-Produced by Kyle Cadotte, Deia Schlosberg, and Teena Pugliese.
DAY 3: Thursday, June 15 at 7:00 PM
COURTYARD PRE-SHOW:
OMEGA DANCE COMPANY + GLOBAL WATER DANCERS, New York's premiere sacred dance company, with excerpts from "Sanctus" and "Benedictus," the water-inspired movement of Paul Winter's "Missa Gaia."
LIVE MUSIC:
VALERIE NARANJO, composer/percussionist performing traditional music of Benin and Haiti. Valerie plays percussion for NBC's Saturday Night Live, was named World Music Percussionist of the Year in 2005 and 2008. She has recorded with Broadway's The Lion King, the Philip Glass Ensemble, David Byrne, The Paul Winter Consort, Tori Amos, Airto Moreira, MEGADRUMS, among many others.
FILM SCREENING:
FATHER JOSEPH (2015), written and directed by Jeffrey Kaufman and produced by Marcia S. Ross, a feature documentary of the remarkable life and work of the visionary Haitian priest who established Haiti's largest micro-credit bank (Fonkoze), with the special mission of empowering hundreds of thousands of women and their families through literacy classes, small business training, and community building loans.
He founded a 700-student K-14 school, an orphanage, a clean water project, a reforestation program, a health clinic, and a radio station; he built dozens of homes, and created the University of Fondwa, Haiti's first rural college. With humor, courage and faith, Father Joseph Phillipe survives political violence and a devastating earthquake, while lifting thousands of Haitians out of poverty. (1'-11")
"Affecting and inspiring, FATHER JOSEPH challenges my sense of my place in the world and what my responsibility is to others."
—Willem Dafoe
Q & A + RECEPTION:
With Father Joseph and the filmmakers: Jeffrey Kaufman (writer/director/producer), Marcia S. Ross (producer), and Andy Gale (Board Chair of Raising Haiti Foundation). Director Jeffrey Kaufman has also made a number of documentaries for Amnesty International.
DAY 4: Friday, June 16 at 7:00 PM
OUTDOOR MUSIC & DANCE:
RENEE ROBINSON DANCE PROJECT, featuring Dancers: Renee Robinson, Alexa, Zakiya Talibah Keféntsé, and Empress Idama; Vocalist: Kefentse; and Drummers: Fatari and Jahi, perform outdoor music and dance at 6:30pm in Union's Courtyard, with a special live performance in James Chapel.
LIVE MUSIC:
SALIEU SUSO, composer/kora player, on the 21-stringed kora (West African harp)
FILM:
TAKING ROOT: THE VISION OF WANGARI MAATHAI (2008) by Lisa Merton and Alan Dater, the compelling and dramatic narrative of one woman's personal journey in the context of the turbulent political and environmental history of her country.
Raised in the rural highlands of Kenya, educated in the United States during the 1960s civil rights era, and the first woman to receive a PhD in East and Central Africa, Maathai discovered the heart of her life's work by reconnecting with the rural women with whom she had grown up. They told her that their daily lives had become intolerable: they were walking longer distances for firewood; clean water had become scarce; the soil was disappearing from their fields; and their children were suffering from malnutrition. Dr. Maathai then founded the Green Belt Movement, a grassroots organization encouraging rural women to plant trees. (54'). Her vision grew into a nationwide movement to safeguard the environment, protect human rights, and defend democracy.
Q & A Session:
Alan Dater and Lisa Merton, filmmakers of Taking Root: The Vision of Wangari Maathai (2008) and the Chair of the International Green Belt Movement.
DAY 5: Saturday Matinee, June 17 at 3:00 PM
LIVE MUSIC:
SKY CARAVAN, violinist Milena Davidowicz and pianist Tim Brown, perform exciting Gypsy and Ukrainian music and will introduce young audiences to playing stringed instruments.
Following music, Matinee Film: EARTH – Disneynature Film (1'-30")
An epic story of adventure, starring some of the most magnificent and courageous creatures alive, it tells the story of three animal families on a journey across our planet – polar bears, elephants and humpback whales. Narrated by James Earl Jones.
AZTEC DANCER CEREMONY:
AZTEC DANCER GROUP Cetiliztli Nauhcampa are a cultural, spiritual, artistic, political, and educational circle of people from Mexico, South America, the Caribbean, and the U.S. who carry on the ancient traditions of native people through ceremony, dances, and song.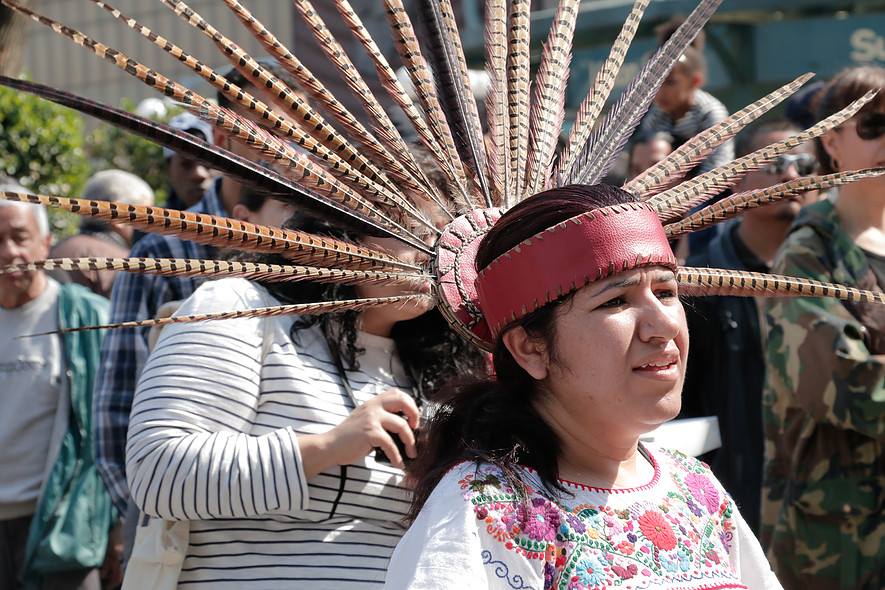 Photo Credit: Cetiliztli Nauhcampa
FILMS:
BORN TO BE WILD (2011), an inspiring story of the remarkable bond between humans and animals, this heartwarming film follows orphaned orangutans and elephants as they are rescued and returned to their homes in the wild.
and
THE EAGLE HUNTRESS (2016), this thrilling true story follows the quest of thirteen-year-old Aisholpan who is training to become the first female in twelve generations of her Kazakh family to raise an eagle fledgling from out of the nest and enter an all-male competition with her full-grown eagle on horseback.

Encompass New Opera Theatre's 4th Annual Paradigm Shifts: Music & Film Festival took place in collaboration with Iftopia, a Korean feminist art collective, at the Academy of Dialogue Culture (Pyung Chang Dong) in Seoul, Korea.

Iftopia (If + Utopia) is a Korean feminist artists collective working on women's festivals, performances, and political activism for the last 15 years. Iftopia has organized Korean women's festivals, Holotropic Breath Work, Sufi meditation, Salimist festivals, Korean Ecofeminism, and more.
Enjoy some photos from Encompass' and Iftopia's
Paradigm Shifts: Music & Film Festival in Seoul, Korea.
The Paradigm Shifts' program in Korean.
Day 1: July 7, 2017